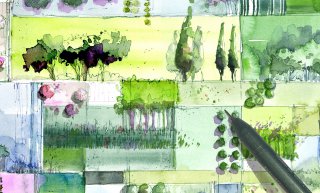 Every landscape starts with a LineScape…
Welcome to LineScape, the drawing initiative founded by Prof. Dr. Sabrina Wilk.
Drawing isn't only about arriving at a pleasing picture, it's seeing, thinking, understanding and visualizing. Even in our digital age, it remains an important part of designing, developing and communicating visions and ideas.
LineScape was founded in 2007 and has hosted many diverse workshops, drawing excursions and seminars for landscape architects and students, always with emphasis on drawing and sketching. The spectrum of courses ranges from freehand drawing out of doors, to more work-oriented drawing and presentation techniques, which are strategically conceived to reach clients and other design professionals.
Everyone can draw… it isn't about talent. It can be learnt and it's also a lot of fun. My courses are no longer just for professional landscape architects and designers, they are for all that enjoy being creative, and want to give themselves an inspirational, stimulating break.
Drawing courses and trips in 2023