MY BOOKS
I have published several books on the subject of drawing in landscape architecture.
My first manual was published in 2013 and in 2nd edition in 2016, with many pictures and examples. The 3rd edition of the softcover edition will be published in 2023 with many new contents and is especially valuable for students.
Drawing for Landscape Architects 2
The Perspective in Landscape Architecture: History, Theory and Practice
In recent years, perspective views have swept into the foreground in the field of landscape architecture. They have become the showpiece of any new design project, frequently overshadowing the plan as the principal graphic mediator of ideas. Perspectives communicate planned spaces unlike any other orthographic architectural projections, easily connecting with ­human modes of vision and perception. Yet we have become so accustomed to seeing them that we no longer examine their underlying messages.
This manual examines the history of these multifaceted images and their power to shape our expectations and thinking. Moving chronologically from the Renaissance to the present day, the book charts their evolution and dissects the motives behind their construction. It also provides clear practical guidance on how to compose persuasive images for diverse audiences.
Presented in this book are numerous historical and contemporary examples, underscoring the perspective's continuing importance in professional practice.
Key thematic areas include:
Introduction to terminology: Basics and principles
Constructing and composing perspectives
Transmitting messages: The landscape as a medium for ideas
Enduring themes of beauty, the sublime, and awe
The future of perspective views
Perspectives in contemporary landscape architecture practice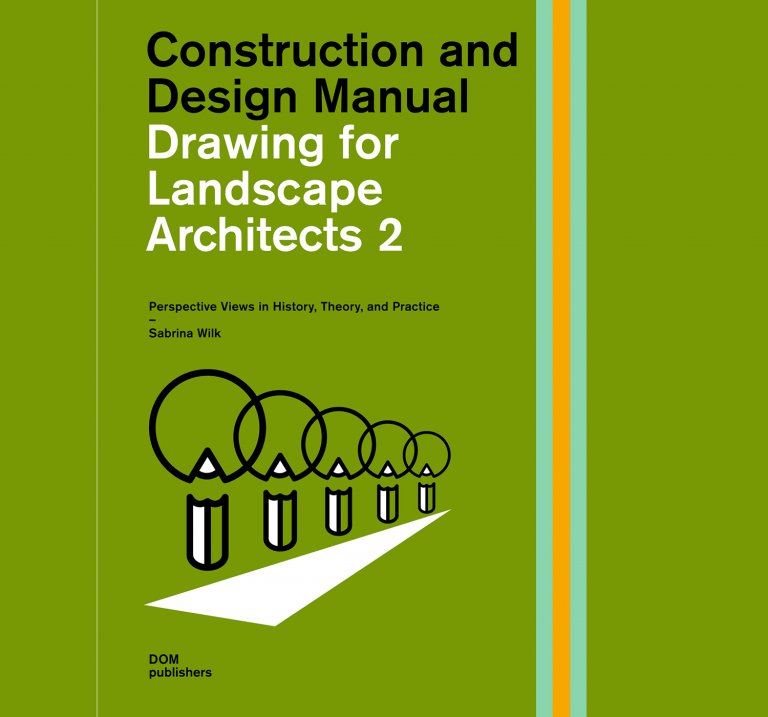 Drawing for Landscape Architects 1
Sabrina Wilk/ DOM Verlag, Berlin
I am delighted to announce, that the third edition of my first book Drawing for Landscape Architects 1 will be published in German and English in 2023.
The softcover version is a valuable resource for students of landscape architecture and landscape construction. The new edition showcases many inspirational student drawings and presentations, which resulted from my teaching.
Landscape architects rely on images to explore ideas and to communicate them to others. Their designs range from large-scale master plans and strategic visions, through to specific vegetation and precise construction details. Concepts and creative solutions are developed, refined, and explained on paper.
This handbook focuses on areas which, even in the age of ­digital media, remain foundations of the profession: drawing, graphics, and projections. Both instructional and inspirational, it covers the basics of landscape architectural representation in an easy-to-understand way, encouraging readers to sketch and develop their own graphic language and style. Also showcased in this book are many examples from landscape architecture offices worldwide, offering practical help and ideas.
Key thematic areas include:
Introduction to drawing tools, applications, and effects
Symbols in different scales, styles, and abstraction levels
Basic principles for presentation, layout, and lettering
Fundamentals of orthographic and parallel projections
Drawing in contemporary landscape architecture practice
FUTURE BOOKS & VIDEOS
I will embark on writing new books and creating videos soon, however this time they will focus on themes beyond drawing. More to come in spring 2023.