ARCHITECTURAL GRAPHICS
Also known orthographic projections, these two-dimensional and three-dimensional graphics have been in use since the very beginnings of architecture and landscape design. They visualize and communicate new planning projects to scale, which means they are extremely effective, both for convincing clients and as part of the construction process. Typical two-dimensional projections include the ground plan, the section and the elevation. Three-dimensional graphics such as the axonometric projection and the perspective are especially effective at persuading viewers of our ideas.
DRAWING GROUND PLANS
The ground plan is central to all the planning professions, and especially so in garden and landscape design. Always at a specific scale, this two-dimensional projection communicates important content and spatial relationships all at once. With the help of graphic techniques such as line weights, shading and textures, a flat two-dimensional plan can be easily legible, and made to appear vividly three-dimensional.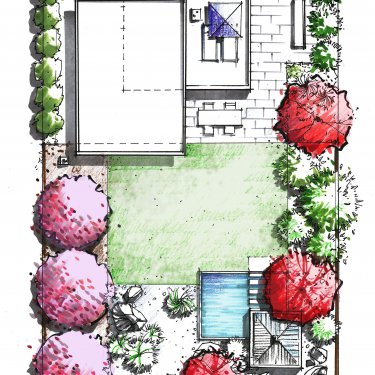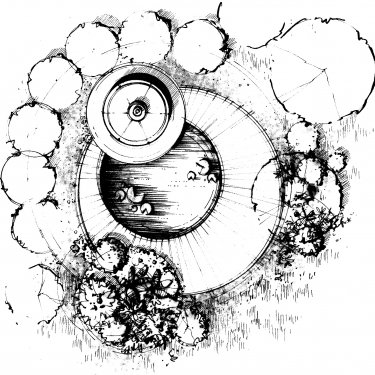 SECTIONS & ELEVATIONS
Sections and elevations enhance the ground plan as part of a design project, giving more information than the plan view (from above) can afford. In landscape design, they can help visualize tree types and vegetation, describe earth modelling and level changes, show surface and materials, people and functions, even highlight events and seasons.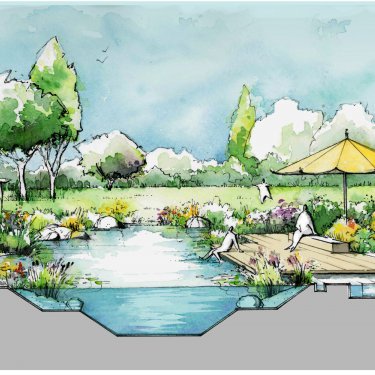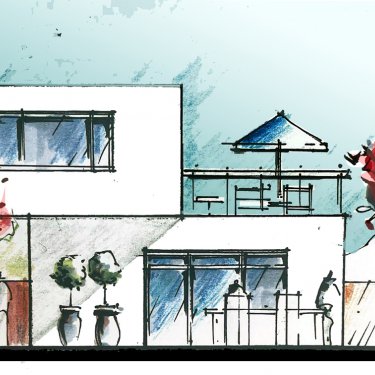 PERSPECTIVES
The perspective is a very effective part of visual communication in the arts and the planning professions. These projections not only help to show space and objects as they might appear, they actually merge with our perception and, when carefully constructed, can even evoke feelings. Their three-dimensional illusion is easily legible to any viewer. Perspective views can allow us to fly over vast areas of greater landscape, or let us participate in a lively street scene. No other projection is as similar to the way we see and perceive the spaces around us as the perspective.
Perspectives are thus frequently used in the planning professions in order to give a perceptible impression of a future design. They can tell stories, they can range from artful and abstract to realistic, depending upon their rendering. Together with distinctive graphic styles and media, perspective scenes allow for a multitude of expressive possibilities, from a quick spatial sketch through to a hyper-realistic digital collage.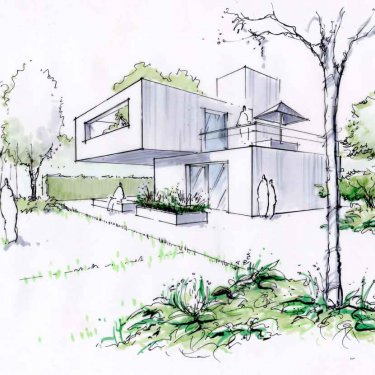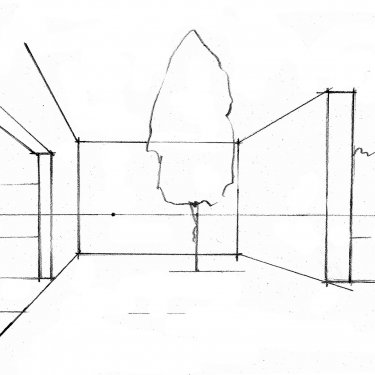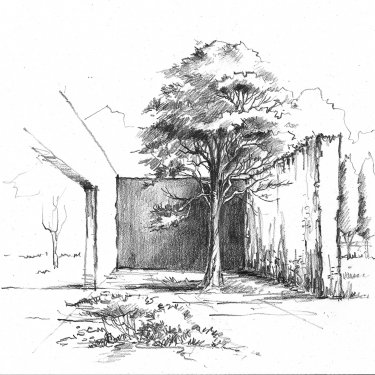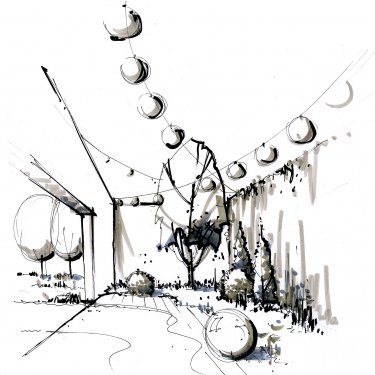 IDEAS FOR COURSES?
I'm happy to help with any questions regarding design and drawing projects. I also offer illustrations, for example of garden plans or graphics for marketing. info@linescape.de