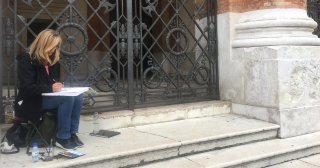 About me
I am a landscape architect and art historian with great enthusiasm for both contemporary and historic landscape imagery. My work involves the teaching and development of a wide range of graphic communication and drawing methods, and I am very dedicated to promoting visual culture in the fields of landscape and urban design, both analogue and digital.
I have been a professor of drawing, graphics and visualization in the faculty of landscape architecture at the Weihenstephan University since 1999, but I have also taught as guest lecturer in other bachelor and Masters study programmes in landscape architecture/ architecture around the world. These include the University of Greenwich in London, University of Sheffield, University College in Dublin, the Agro-Campus in Angers France and students from universities in TU Munich, Höxter, Nürtingen, Geisenheim and Rosenheim.
My commitment to drawing and illustration extends beyond my university teaching. I founded LineScape in 2007, as an intitiative which offers various seminars and workshops in design and drawing for landscape architects and garden designers, cooperating with educational institutions and professional organizations. These have included Bund Deutscher Landschaftsarchitekten (German Landscape Federation/ BDLA), Deutsche Gesellschaft für Garten- und Landschaftskunst (DGGL), Akademie Landschaftsbau in Weihenstephan (ALW), Irish Landscape Institute (ILI).
Courses and workshops were first conceived to offer continuing education beyond university studies, but today they are equally for anyone who enjoys drawing and sketching with landscape emphasis. I am very pleased by the continued interest in my courses and in the topic of drawing itself.
MY ACADEMIC VITA
Bachelor of Landscape Architecture - University of Toronto, Canada
Dipl. Ing. Architecture - Technical University of Karlsruhe, Deutschland (with Prof. Dr. Dieter Kienast)
Doctor of Philosophy (PhD) Art history and cultural policy - University College Dublin, Ireland
Since 1993 - Freelance work as a landscape architect and designer for competitions in various offices around in Toronto, London, Karlsruhe, Stuttgart, Munich…
Since 1999 - Professor for drawing, graphics and visualization in landscape architecture. Courses in freehand drawing, CAD and Photoshop, perspective graphics, watercolour sketching (both Bachelor ad Masters level) University of Weihenstephan-Triesdorf and other German universities
Since 2001 - Teaching as guest professor in drawing and design at other universities such as University of Greenwich in London, England and University College Dublin in Ireland
2007 - Founded LineScape, a drawing initiative, workshops and continuing education courses for landscape architects and designers
2007 – 2009 - Lecturer at the School of Architecture, Landscape & Civil Engineering, University College Dublin, Ireland
Since 2011 - Teaching in the International Masters of Landscape Architecture Program (IMLA) at the University of Hochschule Weihenstephan-Triesdorf and Nürtingen-Geislingen University, Baden- Württemberg
MY MOTIVATION
The link between landscape and image has always held a fascination for me, especially the ways with which artistic and contemporary culture influence our representation and perception of landscape.
I also have great enthusiasm for art history and enjoy travelling all over the world to see (and sketch) the wonderful cities, gardens and landscapes that have been created over the course of time.
Thank you for visiting my site. If you have any questions, comments or suggestions, they are always welcome: info@linescape.de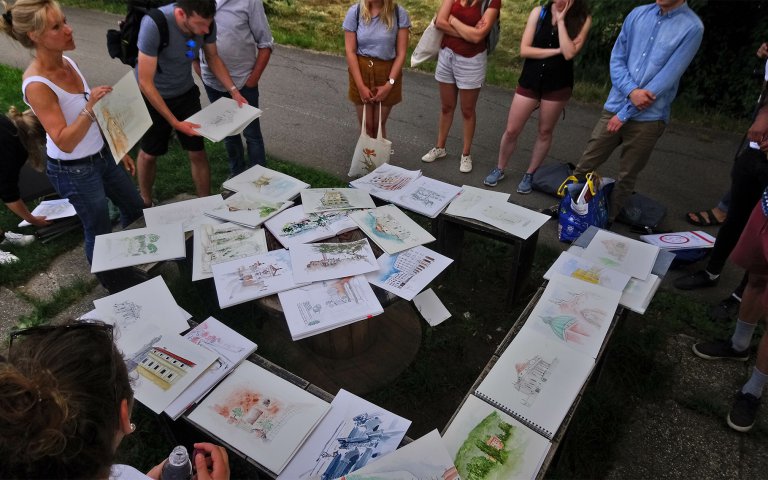 Orders, cooperations & collaboration with